Copenhagen Winner 2012
# 1 Afghan 2011, DK (KC & Clubsystem)
# 1 Afghan 2012, DK (Clubsystem)
Nordic Winner 2011
Amsterdam Winner 2011
Donaueshingen Winner 2011
Danish Winner 2011
International
English
Swedish
Danish
Norwegian
Nordic
DOB 8th March 2007
black/brindle male
Owner: Sue Oakley, Sweden & Abica's
photo: Mikael Nilsson
SBIS in UK & Denmark
CACIB Winner in Denmark, Sweden, Norway & Holland
MULTICH Oshanameh's A Son Of Basty

MULTICH Boxadan Double Trouble

MULTICH Boxadan Xercise Makes Master

CH Boxadan Uptown Girl

CH Boxadan I Better Ask Mom

El Khyrias All Time High

CH SCH Boxadan Beautiful Dreamer

Abica's Mayflower

MULTICH Xciting Xtravagant Creation

CH Genesis Ambelike Silvercharm

CH Xciting Heart Of Gold

CH Ninalli's Enjoy Life It's Wonderful

CH El Khyrias The Right Stuff

CH Boxadan Alexis The Bitch
Results in 2010
12 dec
LKA, Birmingham - judge: Miss Terry Borash (Quaisuma Afghans)
CC - new UK CHAMPION & BEST OF BREED
25 april
WELKS CHAMPIONSHIP SHOW - judge: Mrs Avril E Lacey
1st limit & RES. CC
10 april
HOUNDS OF SCOTLAND - judge: Mrs J. Peak
1st limit & RES. CC - more results
Results in 2009
27. september
AHSNI CHAMPIONSHIP SHOW - judge: Chris Payne
CC - BEST OF BREED - SBIS
Critique from AHSNI
Stunning black and silver dog that was my find on the day. Head long and lean with strong underjaw, dark triangular eye giving an exquisite eastern expression, excentuated by the prominent chiselling which is so rarely seen these days. Ears long and set onl low. Fabulous long neck leading into good lay back of should with corresponding return of upper arm. Chest deep with good spring of rib, correct length of loin, level topline, excellent fall away with well set on ring tail. Sweeping hindquarters which complemented the front assembly, producing outstanding reach and drive on the move. Handled and shown to perfection. Pleased to award him his second CC and BIS.
Birmingham
Judge: Brenda Kennedy
1st mid limit & RES. CC
Scottish Kennel Club
judge: Claire Hindley (Birkhall)
1st Limit & CC & BEST OF BREED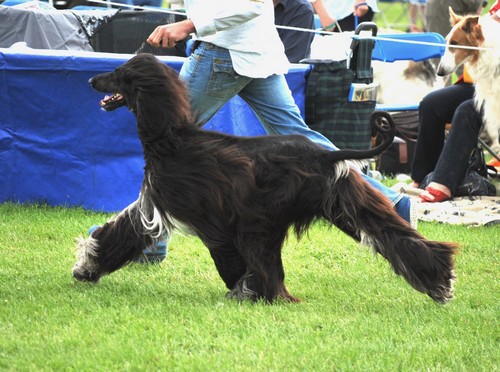 Critique from SKC - august 30
And now for something really rather special…
this impressive black dog's movement is just what I was looking for - great reach and drive, covering the ground effortlessly with the minimum of strides.
A flowing shape from the top of his beautiful head to his ring tail. I particularly loved his head and expression, his eyes are perfect - a word I've never used in a critique before CC - BOB
*
East Of England Championship Show, UK
judge: Mrs Carolyne Allward-Chebsey
1st mid limit & RES. CC
*
Border Union, UK /
judge: Roberta Hall (Saxonmill)
1st limit & RES. CC
*
Birmingham Nat Dog Show Society, UK /
judge: Marita Rodgers (Montravia)
1st mid limit & RES. CC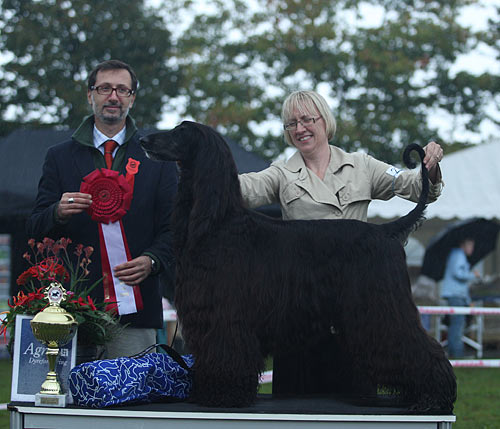 LEVIN BEST IN SHOW, INT KC SHOW , BJERRINGBRO, DK - 2011
Photo: hunden.dk